Welcome on WwoollfF's Site!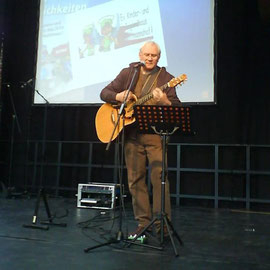 Hello, I am WwoollfF, a singer/songwriter in the genres Folk, Blues, Jazz & Rock.
As an One-Man-Band I'm often booked for Blues-Matinées, Irish Folk Nights, Vernissages and Rock-Concerts. But I don't mind performing on celebrations and parties, playing Dance Music.
As well there should have been gigs, on which I played only campfire songs for five hours and more. Everybody sang along, and nobody noticed, how the time was passing. But Oldies of the Sixties and the Seventies are my speciality - besides my own songs.
My practical experience in music is as comprehensive as my musical work. I played in serval bands (Rock, Blues, Jazz, Folk, Dance) the guitar, the bass, the saxophone, and the flute. Mostly I was engaged as a singer, too. This diversity is mirrored in my songs. Sometimes I seem to be a wanderer between the worlds of genres, swinging constantly back and forth between a down-to-earth unplugged music and a stronger use of electronic instruments and effects.
As "WwoollfF" I came to know the advantages of playing alone. On small events (like a vernissage) I play unplugged, using only my voice, my acoustic guitar and my blues-harps without amplification. Performing on great events (up to 2,000 persons) I make use of the benefits of modern electronic equipment.
INFLUENCES: Bob Dylan, Rolling Stones, Family, Allan Taylor, Geraldine MacGowan, Francis Cabrel, Clannad, Planxty
MY MUSIC-PORTALS: 
    https://www.jamendo.com/de/artist/341169/wwoollff